As part of our theme in April to showcase Lagos, (its) history and culture, The Book Banque caught up with photographer and writer, Wonuola Lawal, to discuss her phenomenal work, and in particular, her work on a fusion of Lagos and other cities - The Displacement Series. She also speaks about the neglect of history and colonial buildings, and socioeconomic issues in Nigeria.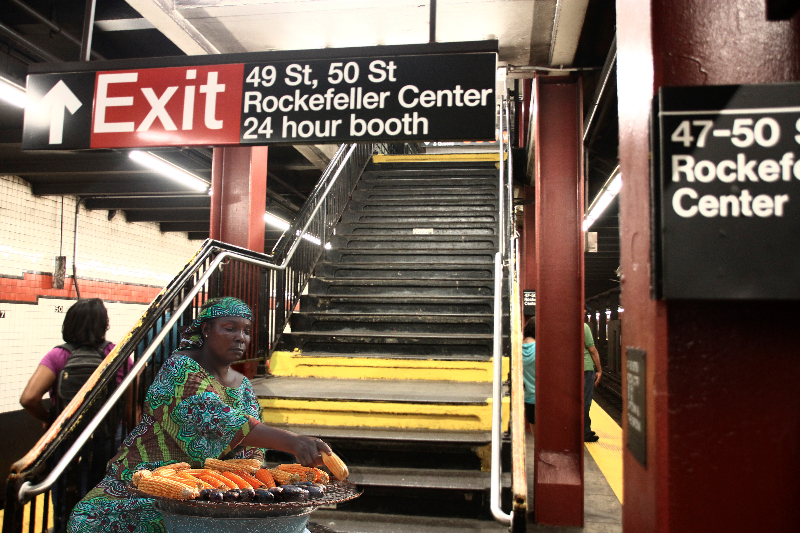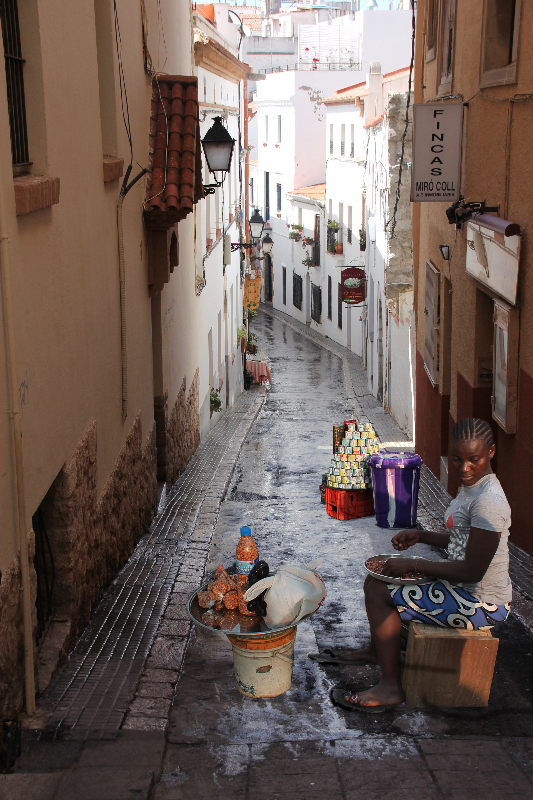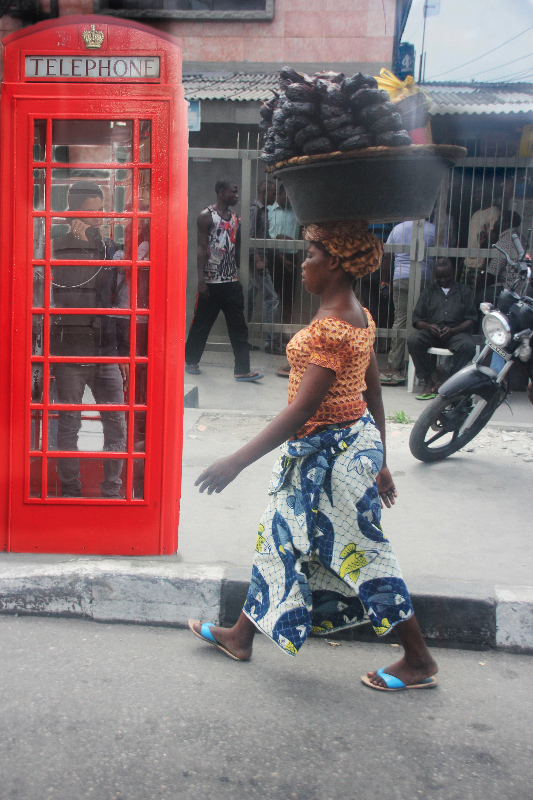 Through your (photographic) lens, Lagos tends to look like a collage of opportunities, chaos yet beauty. What excites you about Lagos?
Wonuola: There's a certain vibe Lagos has that I can't explain. I can feel it in certain places like art galleries and spoken word events; I also feel it when I'm around Marina. I guess that's what excites me - being around people that share similar interests to me, and being around places that celebrate art and music, and the talent our generation has. Lastly, being able to make pictures excites me. There's nothing I find more exciting than capturing Lagos life.
'The Displacement Series' has been a remarkable collection, and has even been featured on CNN Africa's Instagram! What was the inspiration behind the series?
Wonuola: Thank you! I love answering this question because the answer isn't what people expect. I was working on my final project for a Digital Photography class I was taking in Philadelphia. I had no idea what to do for my project, and was even more anxious because I didn't think I was that creative. Anyway, I was looking at boring pictures I'd taken in Lagos and even more boring ones I'd taken abroad, and I was thinking what a waste the pictures were because I couldn't use them. All of a sudden (and I have to emphasise how weird this sounds) it felt like an idea opened a door on the left side of my head, walked into my brain, sat down and said 'Why don't you join the two pictures together?' That's how the series was created.
In an interview in 2015, you linked a nostalgia and longing for home, being a Nigerian living in the Diaspora, as a further source of inspiration for the series. What makes home (Lagos) home?
Wonuola: What makes Lagos home? I'd have to say my family; our culture because there is nothing like it, and just the everyday hustle and bustle that goes on. These are the things I think about when I think about home.
One thing your work does, by contrasting Lagos against cities like New York and London, is highlight how Lagos blends in yet stands out. Was this your intention?
Wonuola: I'm glad you noticed that. It wasn't intentional. The images from Lagos stood out on their own and in my opinion, it kind of reinforced the thought that despite living in the diaspora, there's no denying that Lagos is my home. I took that as a reminder that no matter where I am, I should never ever forget where I come from.
Two particular favourites are women hawking in Rittenhouse Square, Philadelphia and a lady selling nuts and milk on a narrow street in Sitges, Catalonia! To some extent, trading without a licence and peddling/hawking in such provinces are illegal and/or uncommon. However, in Lagos, they seem to make up 'everyday life'. Would you regard them as part-and-parcel of the culture in Lagos?
Wonuola: I definitely would! I repeatedly express how hawking is part of the culture in Lagos. It's amazing how we're able to buy anything in traffic. I remember seeing hawkers selling turkeys on Christmas Eve in traffic and marvelling at how such a sight would have been strange in another country.
That's why I strongly opposed the hawking ban that was enforced in 2016.
How do you decide to take the livelihood of people without offering a better alternative? To make it worse officials used force to seize and destroy their goods, and even took some to jail. The bail fine was 90,000 Naira, and I asked myself 'how traders - that barely make up to 5,000 Naira - a day could afford to pay the fine?' They forget hawkers are also people with mouths to feed and rent and school fees to pay. It's extremely unfair.
The removal of danfo buses (big yellow buses) is also something I have to point out. What would Lagos be without the yellow buses? If the new buses that are to substitute the danfos are yellow, then we won't have a problem.
Among your work are also pictures of colonial buildings in Lagos, which are either not widely recognised, dilapidated, or are being pulled down. What do you think is responsible for the cognitive, physical and cultural negligence?
Wonuola: There's a lack of appreciation for our history and, as a country we're very bad at maintaining things. This lack of appreciation is why our Nigerian history isn't a compulsory subject in schools, which is why most of us know nothing about our history. Our lack of maintenance is why many colonial houses have been torn down and replaced with newer apartments - no offence to those in the real-estate business as I understand business is business.
It is also the reason why many amazing colonial buildings in Marina and other places are shadows of themselves. I remember when I heard there were plans to convert our National Theatre into an 'entertainment city' - a less dignifying outlet, considering all the history contained within the structure. I was disappointed at how easily the government wanted to throw all of that for nothing.
I have to give a shout out to Kelechi Anabaraonye (@oc.wonder on Instagram) because he captures our colonial buildings, and he knows the history of so many of these buildings in Lagos. He now conducts photo walks he calls the 'Waka Tour' - one of which he'll be hosting in collaboration with The Book Banque in May - where he gives you a history lesson on every colonial building you encounter during the tour. It's really amazing.
If you could lend your voice to reconstructing Lagos, what would you say or do?
Wonuola: I would definitely begin with the refurbishment of the colonial buildings that are still standing, and definitely fight for Kelechi to be in charge of the buildings, and the narration of our history to our people and foreigners, as we could use them to boost our tourism sector.
I would contribute to the construction of a proper waste management system because there's a lot of stagnant water during the rainy seasons, which acts as breeding grounds for mosquitoes - hence why Malaria claims thousands of lives in Nigeria. The flooding in Lagos is terrible, so we'll fix that as well.
Bad roads will definitely be fixed, and the implementation of trains will be useful in reducing our traffic problem, as it is one of our biggest problems because of congestion. In a 'perfect Lagos', I imagine people commuting to and from work with ease.
To reconstruct the city, you'd also have to reconstruct the way its people think, especially its leaders. We'd educate the people on social issues such as how rape is never the victim's fault. There will be an emphasis on how it doesn't matter how the victim is dressed, and instilling in men that no means no. We'd educate them thoroughly on the topic of feminism and how it means equality for women. We'd decolonise the minds of the people because we treat foreigners better than we treat ourselves in our country. These messages will be in every form of media; newspapers, TV adverts and radio, in local languages and in English, in order for them to resonate.
I think I sound as if I'm running a campaign.
Primary and Secondary education will be made free so the less privileged wouldn't have to worry about paying their children's fees, and will also be able to get an education themselves.
Alternative housing would be provided for the homeless especially those people that have been brutally run out of their homes by officials. No one would be sleeping on the streets.
There will be reform on our University education. There've been many protests at UNILAG, and no one is listening to the youth. That will definitely change.
The implementation of a proper solar energy system to generate electricity would be vital. As a result our electricity and power problems can be a thing of the past. We won't need to buy diesel, or suffer during fuel scarcity, and we'd be using a cleaner method of generating electricity even though the method itself has disadvantages of its own.
These are just a few ideas. If I could write an essay, I would.
Miss Lawal had us chanting 'Wonuola for Governor!' as we read. We cannot overemphasise the importance of all the points she raised in our interview, especially the need for reconstructing mindsets and listening to our youth. We are grateful for the opportunity to host her voice on our platform. To see more of Wonuola Lawal's work, visit her website, or follow her on Instagram.
For more information on the 'Waka Tour' with Kelechi, kindly send us an email and/or follow our social media pages for details!